∞
The Season is upon us...
The weather is finally turning cold in Minnesota and that means that people are starting to think of the one sport everyone in Minnesota seems to play… HOCKEY!
For some background, I grew up in Iowa never playing or really watching hockey.  Once I moved to Minnesota after college I started watching Hockey and have even taken up skating.  It really must be something in the air or water here as my kids talk about hockey all the time and it seems to be on their mind all the time (Not that I am complaining).  For that reason, when I had the opportunity to acquire some boards last year to set up my rink in the backyard I took advantage of it.  Some of my friends outside the state of Minnesota are shocked that we actually flooded the backyard to create a rink to skate on.  Honestly, it does sound a little strange but the whole family had a blast skating and playing hockey on it last year.  The best part was you didn't have to get in the car, or walk down the street to enjoy it.
Since the weather has been turning colder and there was snow in the forecast, I spent some of the weekend setting the rink up to ensure I was ready for the season.  I was lucky that some family was in town to do some of the heavy lifting/swinging to get everything setup in really good time.  Here is how it looked as of Sunday night with the Boards up, and the tarp clipped down.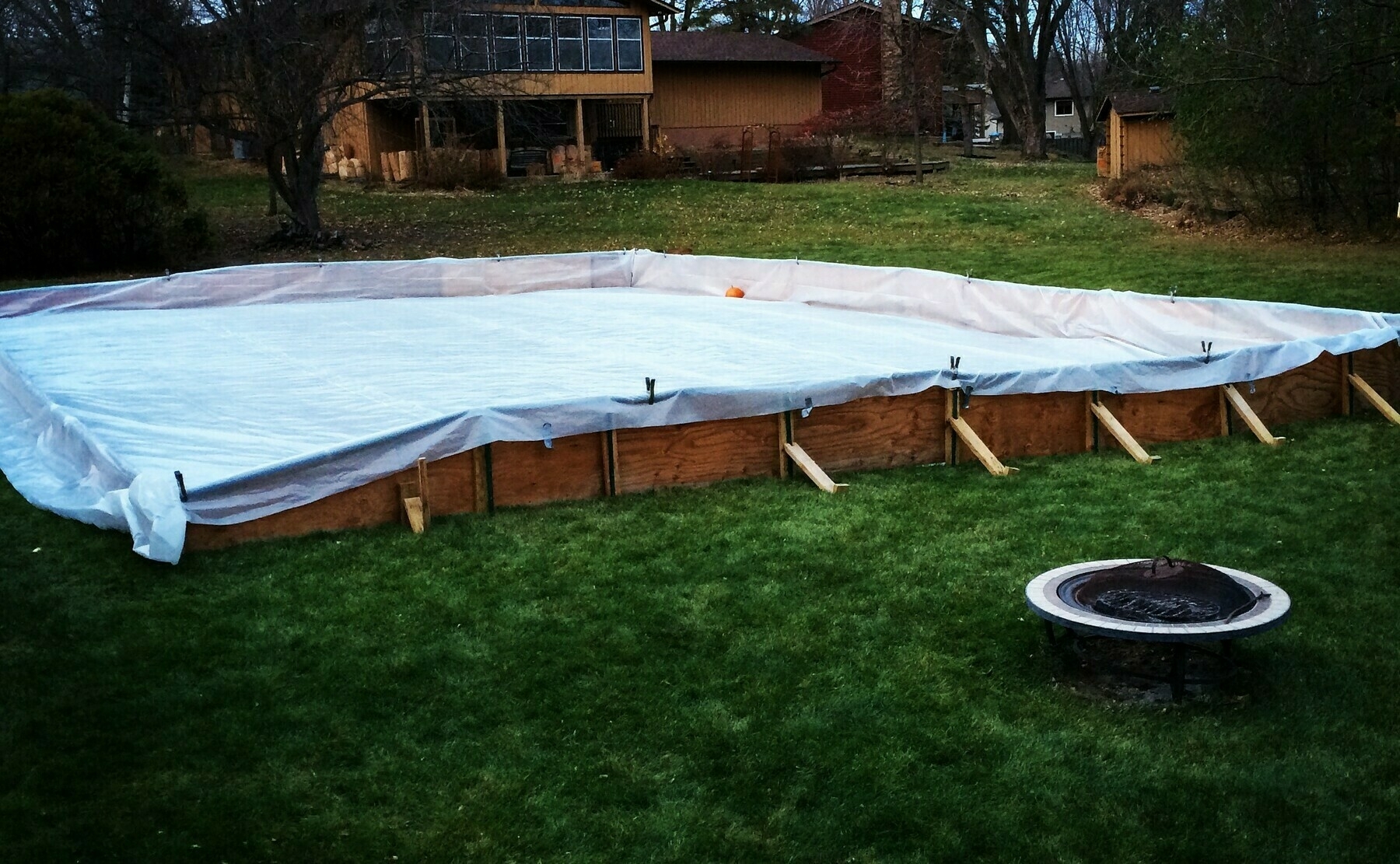 *Backyard Hockey Rink*

There were two things I did differently from last year:
Used clips I found at the Hardware store to keep the tarp in place instead of stapling it to the boards
Left extra tarp on the small boards' side because as last year I was cutting it really close after the water pulled the tarp to the deep end
Now that everything is set up we will just wait for it to be cold enough and stop snowing to fill with water.  By the looks of the forecast for the next seven days, this weekend might be the best time.

Below are some pictures of my helpers assisting in the setup, as you can see they had a great time helping set the boards out.