∞
WordPress.com vs WordPress.org
Have you ever wondered which WordPress platform is right for you? Maybe you are just curious what some of the differences (pros and cons) between WordPress.com and WordPress.org. I am going to walk you through my most recent thought process because after using WordPress.com for the past two years I am moving it back to the self-hosted WordPress.org.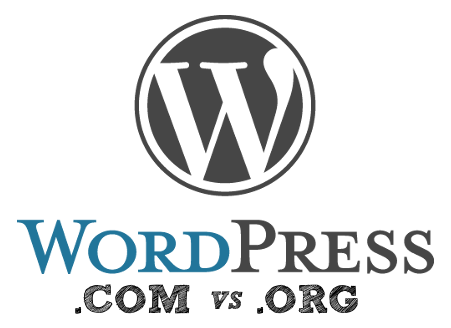 I loved the ease of which WordPress.com just works and you don't have to worry about anything in the back end. If your goal is to just start writing and see where it goes I would recommend it. There is no hosting provider to find, no installs, no plugins, no making sure you backup data, no worrying about indexing, no worrying about SEO optimization or anything. You just walk through the steps on WordPress.com and create a site. The only time you need to think a little bit more is if you are actually going to pay for a domain name or pay for some of the other upgrades.
Two years ago I wrote Wordpress.com or WordPress.org and Why?, which outlined at the time my thoughts and reasons of why I was moving my self-hosted WordPress.org site to WordPress.com. The big reason as I touched on before was I just wanted to Write/Post. I didn't want to get caught up in worrying about other things because at that time I didn't care. WordPress.com makes it super simple to Like, Comment, and Follow other blogs. It really can make a new Blogger feel good about the progress you are making and honestly who doesn't like knowing that people have read their stuff.
However, all of those easy features come with limitations. You realize that you can't use Google Analytics in the cheaper versions, add some custom code linking to other forms or email captures, further tweaking of how themes look and work. I think when you get to that point you really need to consider moving off of WordPress.com unless you want to pony up to the Business Version. Here is a quick rundown 2 years later of my pluses and minus of each:
Wordpress Breakdown
WordPress.org

WordPress.com

Overview
Completely flexible from the start but requires finding a provider to host your site.
Focus on your beautiful content, and let us handle the rest.
Hosting
Find a website host**, domain name, and perform all maintenance yourself (e.g., backups, security, upgrades, and optimizations).
Premium hosting and maintenance is taken care for all Plans (i.e., security, backups). Upgrade for custom domain names (e.g., StillThinking.me).
Themes
Endless possibility of free and purchased themes with advanced features. Or create your own using CSS and PHP.
Hundreds of amazing themes optimized for any device. Upgrade for Unlimited Premium themes and advanced Customization.
Support
WordPress.org community support forums for assistance.
Support is available in the community 
forums. Upgraded plans to have email and live chat access.
Analytics
Powerful analytics using Google Analytics by adding custom code in your theme or installing a free or paid plugin.
Limited analytics with their own built-in stats. No Google Analytics capabilities. Upgrade to the Business Plan for Google Analytics integration.
SEO
Install the best free or paid SEO plugins in order to unlock tools needed to maximize your SEO potential and achieve a higher Google search results.
Limited to no SEO control with most of their plans. Upgrade to the Business Plan for tools to maximize your SEO potential.
Sharing
Install plugins in order to access popular features and customize to have complete control.

Now you can enable WordPress likes for posts and comments via JetPack!

The only limitation to WordPress.com is Post Tags are not searchable in WordPress.com Reader.

Popular features standard but with limitations

Social Media integration
Limited email subscribe lists (only popups via MailChimp)
Likes and Comments integrated for all WordPress.com users
Tags show up in WordPress Reader searches
** - Most website hosting providers usually feature 1-click WordPress installs that makes it that much easier now to just start writing!
Some final thoughts…
Now that my site has been completely transitioned over I have been starting to find a couple things that show up differently.  However, the nice thing is most can be tweaked/fixed with the right amount of Google searching. I still feel really good about my decision as it has also allowed me more control in other initiatives that I am trying to work on like building a Still Thinking.. On the Line... newsletter!

I hope you found this article helpful in understanding some of the differences that I have noticed between both of them. There have obviously been other articles written about this in much greater detail on the pros and cons.  Here are two of my favorites:

If you have a WordPress.com site or have had one in the past, I would enjoy hearing your thoughts as well.